This section is dedicated to research regarding the paternity of James Shasteen (Shastead / Chastain) (b circa 1755-60 ). Our lineage was traced back from Ohio using the personal property tax rolls of Amherst County VA for the period from 1785-1813 and the the 1810 Federal Census records for Virginia.
Brief History of Amherst County, VA. Amherst County was formed in 1761, from parts of Albemarle County. The county was named for Sir Jeffrey Amherst, known as the "Conqueror of Canada". Jeffrey Amherst was named Governor of Virginia, although he never came to the colony. Native Americans were the first humans to populate the area. They hunted and fished mainly along the countless rivers and streams in the county. With the establishment of the Virginia Colony in 1607, English emigrants arrived in North America. By the late 1600's English explorers and traders traveled up the James River to this area. Early trading posts formed between 1710 and 1720. By 1730, many new families moved into the land currently known as Amherst County drawn by the desire for land and the good tobacco-growing soil.

In 1761, Amherst County was formed from the southern half of Albemarle County. The original county seat had been in Cabelsville, now Colleen (north out of Amherst on Hwy 29 where it intersects with Hwy 56) in what would later become Nelson County. In 1806 the county assumed its present proportions when Nelson County was formed from its northern half. At that point, the county seat was moved to the village of Five Oaks, later renamed Amherst. The present county courthouse was built in 1870 and has served the county ever since.

In the early days the major crop raised in Amherst County was tobacco with apple orchards becoming popular in the late 19th century. Timber, mining and milling were also important industries. The introduction of the railroad in the late 19th century greatly influenced the county's growth. The county contains many good examples of 18th, 19th and early 20th century rural and small town architecture. The downtown area of Amherst is a classic example of early 20th century commercial architecture.
Virginia Deed and Tax Research from Primary Research — (Same thing on an html page, to make it easy for you! Virginia Deeds and Taxes) — Copy of Research File March 2008, 4 pages. Open and use to follow research and support behind assumptions. Believe the recording of this 1812 land sale deed by the Court in 1832 as result of suit by Richard S. Ellis surviving partner of the late mercantile concern of John & Richard S. Ellis plantiff against William Davis and

Robert

Shastead, William Shastead, Edmund Shastead, Francis (DIL? )Shastead and Elizabeth Shastead, heirs at law of James Shastead dec'd, defendants is a pivotal document - I have requested it from the Amherst County Court.

James and Jesse Shasteen brothers that left Amherst Co. VA for Kentucky circa 1791 - accumulated research file. Used to attempt to determine the paternity of these two brothers, which would assist in determining the paternity of James b circa 1755-60 - Thanks to Joe Hardiman and the Gallagher family

County Line Change Maps for Virginia - County line changes at key census years with comments regarding movement in those early years.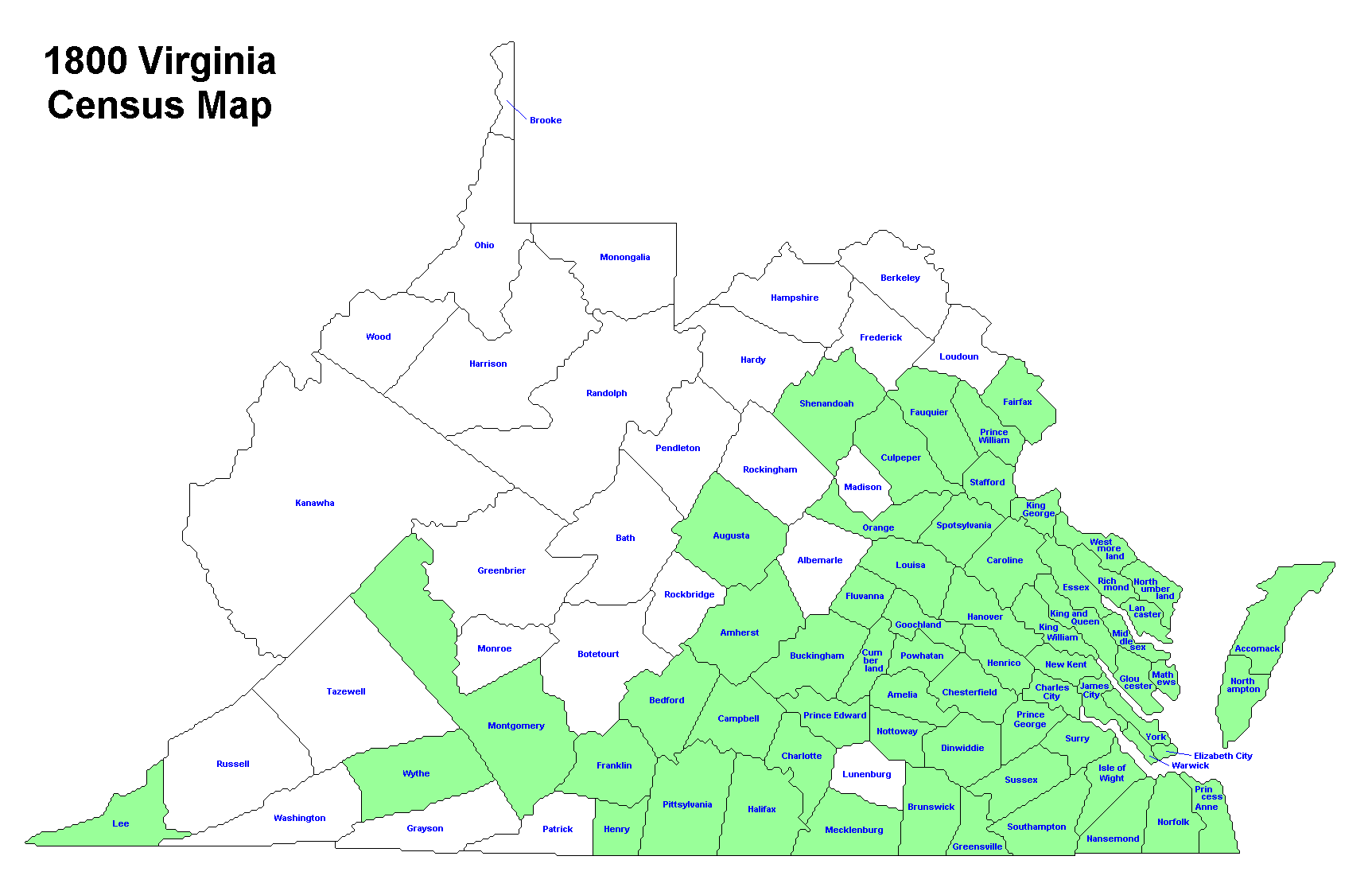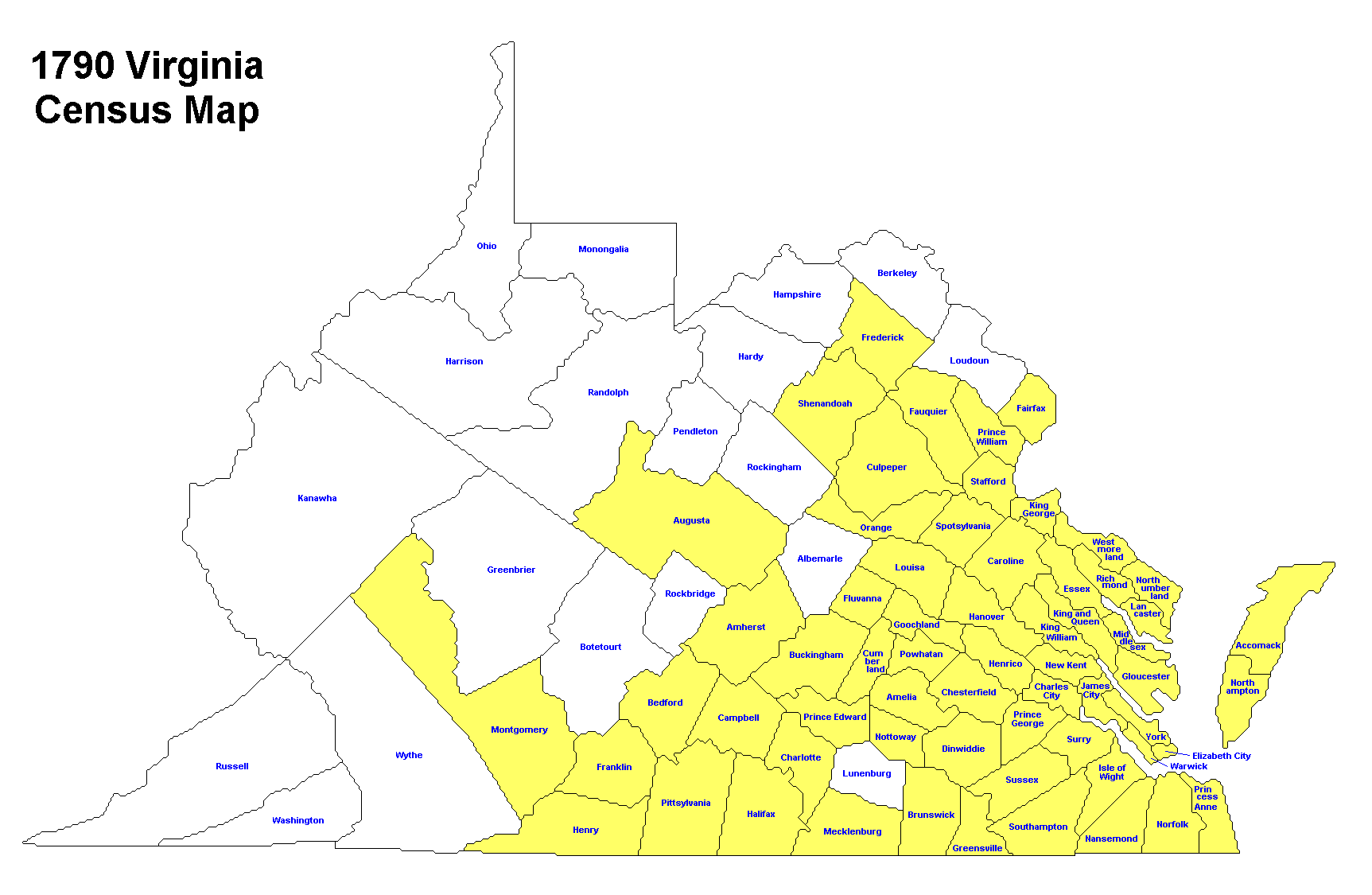 Double click to open full size or use your browser functions to view larger version.
The 1790b pg 12 and 13 and 1800b pg 16 and 20 Amherst County Personal Property tax rolls were used to substitute for the lost 1790 & 1800 Virginia Federal Census. These four pages were a part of what was reviewed to document the Shasteens in Amherst County from 1785-1813. All rolls were reviewd by me from 1785-1833. Additionally, property tax rolls were reviewed for the same period to attempt to determine the transaction path of Shasteen owned property. An open area of research involves further deed examination and analysis.
1810 Census for Amherst County VA and the 1810 Census for Rockbridge County.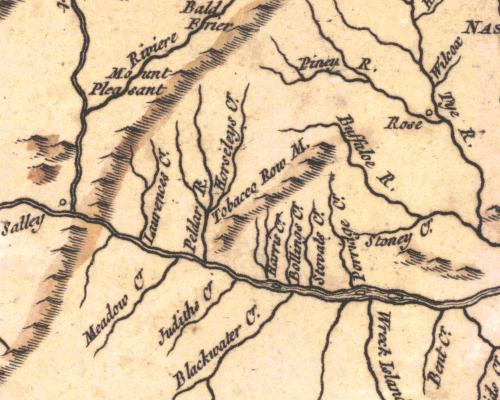 This 1755 map probably best shows the geographic significance of "Pedlar" (Pedlar River, Pedlar Mills city) "Buff" (Buffalo River) and "J River" used on the personal property tax rolls.

Also of interest in the deed analysis are teh Tobacco Row Mountains.

Note the location of the city of Amherst in relationship to the Buffaloe River and Stoney Creek.

Be sure to also look at the large present day map of Amherst county with pointers to some of the significant geographic markers.
Amherst County, VA Map

Also these really close ups from the Civil War Period
Amherst County, Civil War Maps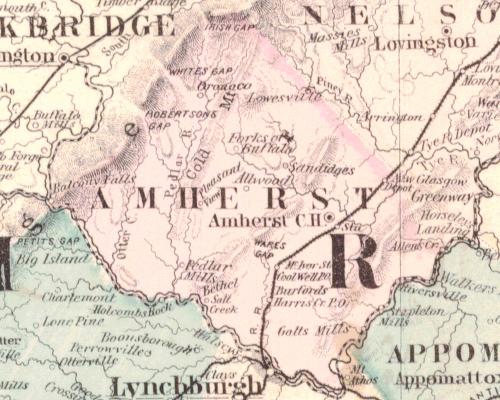 This 1877 map shows an updated version of the same geographic references, plus includes Otter Creek. Note the pink shading for Amherst, - the western border with Rockbridge essentially follows the crest of the Blue Ridge Mountain Range.

One of my many pondering points is the reference to a mill and the land being on both sides of Otter Creek mentioned in one of the land sale deeds and the fact that in 1810, the family appeared to be living in both Amherst (James) and Rockbridge (Robert) yet the land sales were not initiated until 1811 or 1812. This could indicate the beginning of the migration to Ohio, or that the property was significantly north of the James River. There are references to Pedlar in detailed Rockbridge County maps up near the Robertsons Gap area.

Note also that this map refers to the Forks of Buffalo and New Glasco Depot on the rail line NE of Amherst
Amherst Co., Virginia - Tax List for Lexington Parish/District - 1800 - Column One – White males over the age of twenty-one - Column Two – Horses owned - Column Three – Slaves over the age of sixteen - Column Four – Slaves between the age of twelve and sixteen - Shastead, James 2-1-0-0 - Source http://www.rootsweb.ancestry.com/~vaamhers/tax/Amherst_tax_1800.html
From the

Alexander Brown papers in the Special Collections Department

, Swem Library, College of William and Mary, Williamsburg, VA - The List contains the following numbers: (This is the way Brown wrote his key) -

1. Of those who had interests in Old Albemarle prior to 1761, nearly 2000 and is nearly complete a. a. - This document is a key that Alexander Brown made to some sources that he was using in the late 19th century. The current location of many of these sources is unknown. Some of the records were public, some may have been documents that he owned or to which he had access at that time.
The Alexander Brown document has value because it may provide a researcher with a clue to use in his genealogy research but the researcher will need to do his own investigation into extant records. Source http://www.rootsweb.ancestry.com/~vaamhers/docs/EarlySettlers.html
Shasted James a.

St. Luke's Church Pedlar Mills, VA - (Copied from http://www.rootsweb.ancestry.com/~vaamhers/docs/StLukesHistory.html)
The history of St. Luke's Church at Pedlar Mills goes far back into the beginnings of this commonwealth.
In 1778, Amherst Parish had included the Episcopal Churches of Nelson County before the two counties of Amherst and Nelson were formed. The churches of Amherst County were then taken into "Lexington Parish" (named for the first battle of the Revolution, fought at Lexington, Massachusetts) with the Reverend John Buchanan as its first minister.
There is a note in the parish registry that Major Josiah Ellis was appointed to receive subscriptions from the parishioners of "Pedlar Church" in 1799.
The original St. Luke's Church is described as a small frame building upon the upper part of Pedlar River.
St. Luke's for a time eked out a rather precarious existence. However, again in the parish records we find a notation in 1800 of a 'subscription being on foot for raising a sum of money for the particular purpose of repairing Pedlar Church'. Josiah Richard Ellis, a Great-grandson of the first mentioned Major Ellis, writes in a history of St. Luke's that after a meeting held in an old tobacco barn in 1826, it was decided by friends of the church that the wooden chapel should be replaced by a brick church. This was done early in the 1830s under the ministry of Reverend Silas Freeman.
The church was largely supported by John and Richard S. Ellis (Believe this is Richard Shelton Ellis 1775-1846), brothers and merchants at Pedlar Mills, who were instrumental figures in the building of the old brick church. After the War Between the States, the Reverend Robert J. McBride came as Deacon to Lexington Parish and became deeply interested in rebuilding the now-antiquated brick building of St. Luke's. The old church was torn down and rebuilt of the same brick under his administration probably about 1871 or 1872.
On May 11, 1876, St. Luke's was consecrated by The Right Reverend Francis M. Whittle, Assistant Bishop of Virginia. The sentence of consecration, written and signed in his own bold hand, is now pasted in the front of the parish register.
From the dawn of the century down to about 1921, however, there seems to be little record of the activities of St. Luke's. In April 1921 the Reverend Josiah Richard Ellis, Grandson and Grand-Nephew of John and Richard S. Ellis who built the original brick church, took charge of Amherst Parish and conducted services at St. Luke's. During his ministry, about 1926, the portico, with its tall white columns, was added to the church building.
Today, its congregation is considerably reduced in size, and services are held only several times a year.
Contributed by: Ken Dunlap (I am a descendant of Charles ELLIS, son of John ELLIS, and Charles' wife Susannah HARDING ELLIS. The Ellis family removed from Tuckahoe, in Henrico Co., to the Pedlar River in Amherst Co.(Albemarle at that time)abt 1754. Many of the Ellis family were buried in the family burying ground at "Red Hill" on Pedlar River between 1755-1830. I'd like to find the exact location of Red Hill, and locate the cemetery there, if it still exists. Also the home, (designated as a State Landmark in Amherst County is located) of CHARLES ELLIS, b abt 1719 & wife, SUSANNAH HARDING ELLIS. They built it on the Pedlar River and it is called "Red Hill" - W of Pedlar Mills on VA 647, Pedlar Mills -

St. Luke's , Pedlar Mills Province III Diocese Southwestern Virginia P.O. Box 688,

Madison Heights, VA 24572,
Clergy:
Thomas Wallace, Senior Warden
Primary Phone:
434-845-3446
) Also http://members.aol.com/stlukesamherstva/
More may be learned by pursuing the Church / Cemetery angle in Amherst and Rockbridge counties, VA.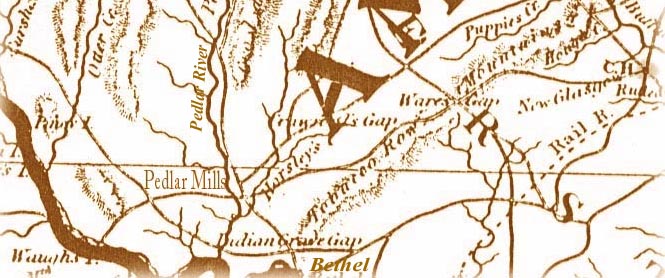 "
Map of Amherst County, mid-19th century. The Court House on the right of the map. From the Court House a road leads southwest, crossing Tobacco Row Mountain at Ware's Gap, proceeding through Crawford's Gap, crossing Horsleys Creek and Pedlar River at Pedlar Mills. The road then intersects with the Indian Grave Gap road, and ends at Waugh's Ferry on the James River. Waugh's Ferry was used frequently as a crossing point on the James River for early migrations to the southwest"

This indicates that a ride from Amherst thru the Tobacco Row Mountains to Pedlar Mills and on to Otter Creek at the James river was a reasonable thing to do. Note this map is circa 1850. It appears to be about 12 mi from Amherst to Pedlar Mills and 6 mi more to Otter Creek at the James River. (Crow flies, not land path). See also these really close ups from the Civil War Period
Amherst County, Civil War Maps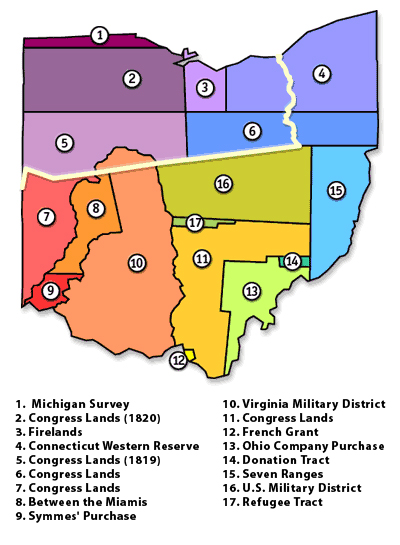 This map shows the different Land Grants that were used to settle Ohio. Because of the number, may title issues arose, but it set the pattern for the public distribution of lands for subsequent states.

Edmund Shasteen #1, #2 and William Shasteen (Shanteen) #1 both had
1835 Ohio land federal purchases but no light was shed on James.

No other public land purchase were found for Shasteens in Ohio.

I have seen no other general information on land grants.

The Strange Estate of Johann Ulrich Albrecht - 1866 Receivables from this man's Yellowbud store list James C. Shasteen owing $13.00 and James Shasteen, Jr. owing $12.50 in notes and William Shasteen $2.95 and James Shasteen, Jr. owing $4.50 on account at the time of his death. In all likelihood, this is James b 1807 d 1866, his son James C. b 1834. But it could be Robert's brother James' son James b 1823 (although there is speculation he went on to Defiance/Henry county). All should have been in Yellowbud in 1866. The William may have been Robert's son William b 1814/1816 d 1902 or James b 1807 son William Henry Harrison Shasteen b 1841. No other likely candidates seem to be available.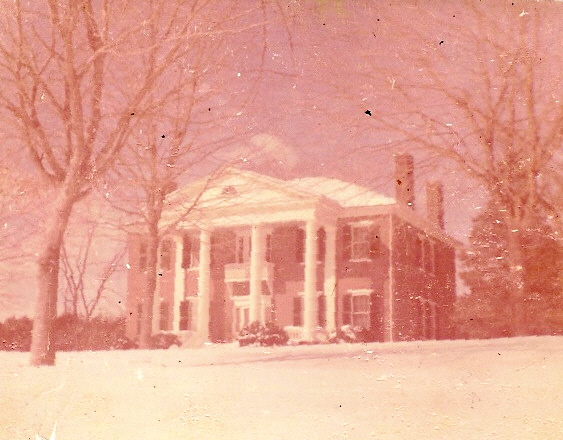 Red Hill, Amherst County, Virginia - Built on the Ellis plantation, this home was completed in 1825. This photograph shows "Red Hill" as it appeared in the winter of 1959-1960. It is on both the Virginia Historic Landmarks Register and the National Register of Historic Places. — Courtesy Amherst County Museum & Historical Society

Discussion found on web: Edgar Allen Poe was an unofficial adoptee of Richmond businessman Allen, who was also a partner of the Ellis brothers of Pedlar Mills, Amherst County. Poe appears to have been raised (at least initially) with many of the privileges of these families. The Ellis family estate in Amherst was not small by any means, and Poe did spend summers and vacations there periodically, visiting the Red Hill plantation (Amherst County, not the other Red Hill associated with Patrick Henry...) - Holly Mills Amherst, VA HolladayMills@AOL.COM


There may be value in learning more about the Ellis family, but mostly I included this as it was interesting.
Please advise of any other suggestions or information you might have regarding the paternity of the paternity of
James Shasteen (Shastead / Chastain) (b circa 1755-60 ) as it keeps me up nights and I suspect the answer will wind up being unknowable unprovable.